CRUISES WITH LUXURIOUS YACHT "MARIA VEK"
Give yourself and to those you love a once in a lifetime cruise at the island of Amorgos.
Discover the secret beauties of Amorgos and enjoy the best beaches where one can go to only by boat. Take pictures of the ornament of our island, "the monastery of Holy Mary Hozoviotissa". The grandeur of its view can be seen while aboard standing like a white dove on the steep rocks that stretch down to the sea. Take pictures next to the petrified pirate and swim at the most beautiful beach of the island "Chalara" where one can get there only by boat. All the wildlife of Amorgos (steep rocks, beaches and unique caves) can be captured there.
Give yourself and your loved ones a cruise that will remain unforgettable to you!
DAY CRUISE TO SMALL CYCLADES
From AMORGOS to KOYFONISI – SHINOUSA – HIRAKLIA – AMORGOS
Discover the beautiful islands of the Small Cyclades with our luxurious sea cruiser "Maria Vek". We want to make your experience an unforgettable one!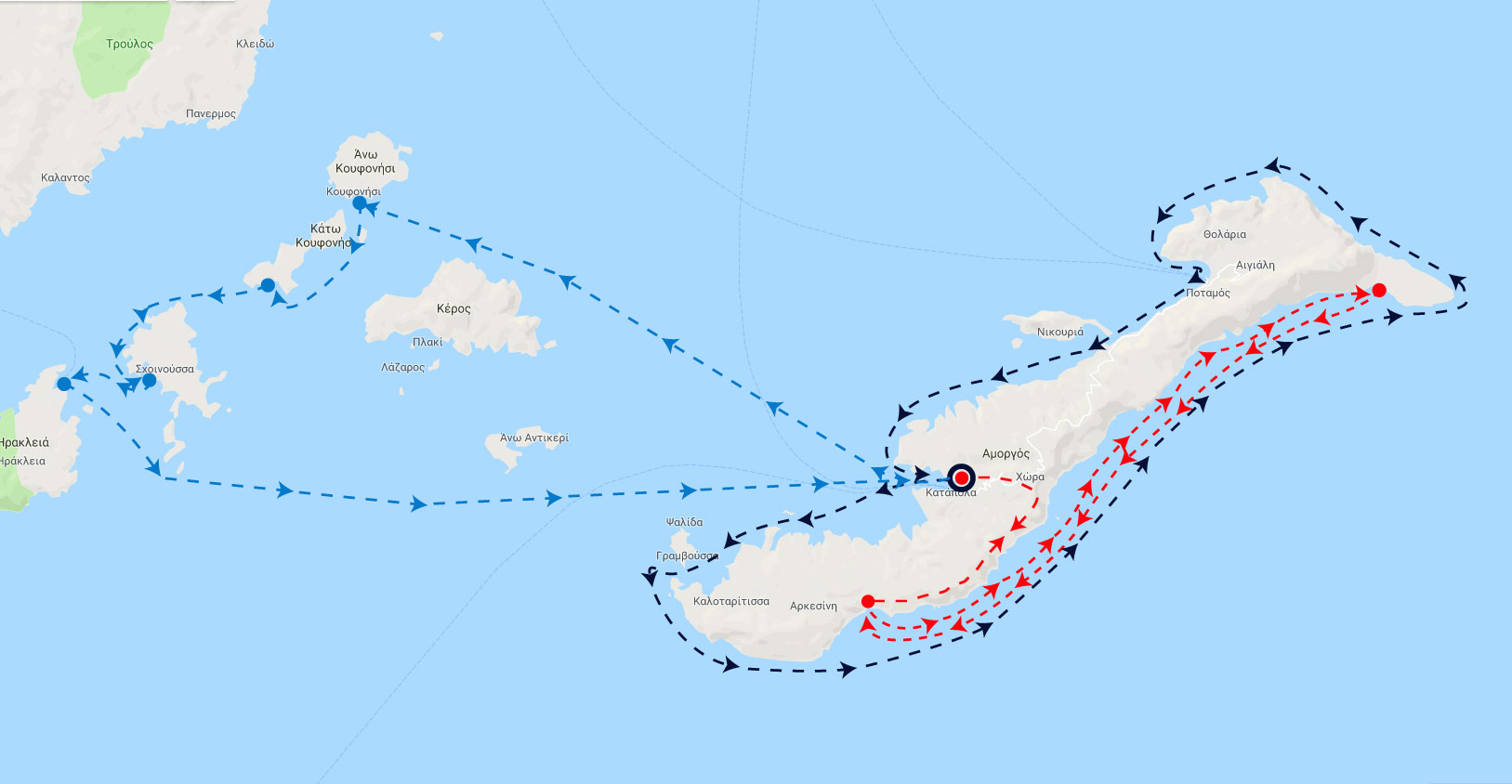 SHORT DESCRIPTION OF THE CRUISE
Departure from the port of Katapola in Amorgos at 10:00.
Docking at Koufonisi, at 10:45.
Departure from Koufonisi, at 12:00.
Docking at in a sheltered beach in kato Koufonisi for swimming, at 12:10.
Departure from Kato Koufonisi, at 14:00.
Docking at Shinousa, at 14:15.
Departure from Shinousa, at 16:00.
Docking at Hiraklia, at 16:10.
Departure from Hiraklia, at 17:10.
Docking at Katapola, at 18:00.
Cruise cost
During May, June, September and October, the cost of the one-day cruise is 2360 euros for the boat and 1000 euros for the fuel -a total of 3360 euros. Boat, crew, food and drinks and VAT 24% are included in the price. If you wish to have the boat only for you and your family or friends, you proceed to the payment of this price. If you wish to share a cruise with other people, you get to share the cost. Therefore, if you make a total of 14 people, the cost for each one of you is 250 euros.
During July and August, the cost is 2730 euros for the boat and 1000 euros for the fuel -a total of 3730 euros. Therefore, for a shared cruise the cost is 270 euros per person.
Book now